You have setup your event, it's time to send invitations. Navigate to your event detail page and click on the plus sign in the box titled "Invitations".
The invitations modal pulls up a list of existing contacts that you've already added to your account. If you haven't added any contacts yet, you have the ability to add them now. You can add contacts one by one, import them from Google, or import them by using a spreadsheet.
Public sharing



Another way  you can invite your guests is by a public share of your event. This option can be found under your event photo that you have uploaded. We give you the opportunity to share your event via Facebook, Facebook Messenger, Twitter, and email. We also provide you with a public link that you can copy and paste anywhere you would like. When the attendee clicks on that link, they will get the chance to request an invitation by sending you their name and email address. You can simply take that information and send an invite directly to your guest. Once they RSVP, it will add them to your event.
Resending invitations

If you have received limited responses to the invitations you have already sent out, you also have the ability to send out the invitations again. From your event details page, open up the "Attendee" tab by clicking on it. You will see a button to "Resend Invitations". This will allow you to resend the invitations to any guest that has not yet responded.
Attending your own event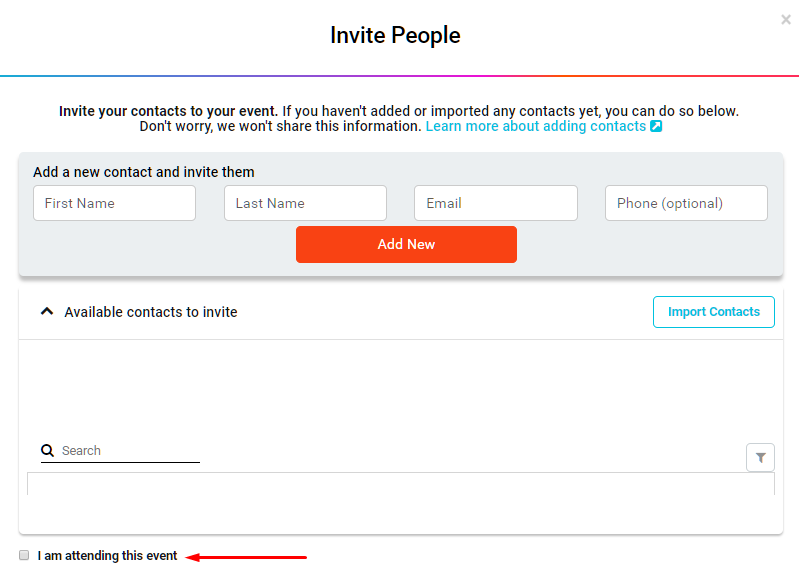 When you are attending your own event, you are unable to send yourself an invite however, you can still add yourself to the event in another way. The screen shot shown above is your invite screen. If you look to the bottom of this screen shot, you will notice a checkbox. By checking this box, it will add you to the list of accepted guests. 
Adding contacts to invite one by one

If you wish to add your contacts one by one simply enter a first name, last name and email address for each contact you wish to invite. By now, you're noticing the "Available contacts to invite" list being automatically populated. For each contact you've added, a check mark appears next to their name by default which signifies that you would like to invite the selected contacts.
Importing contacts to invite

We offer two ways to import contacts. You can import your contacts from a spreadsheet, or, if you have Gmail, you can import them directly from your Gmail account.
Importing contacts from a Spreadsheet
Preparing your spreadsheet for import involves a few easy steps:
To import your contacts from a spreadsheet, please make sure your column headers are structured and in order as follows: FirstName, LastName, EmailAddress, PhoneValue (this column is optional and phone numbers must be formatted xxx-xxx-xxxx). Once complete, please save your spreadsheet in the following format: CSV (comma delimited) Once uploaded, you'll be given the opportunity to select contacts to import or have the ability to import all contacts from your CSV file.


Save your spreadsheet as a comma separated CSV file. Click "File", "Save As" then choose "CSV *(Comma Delimited) (*.csv)


Now that you've saved the file, click "Browse" and navigate to the file you saved, select the file you saved, then click "Import".



Select all of the contacts you wish to import and click "Import Selected Contacts"
Importing contacts from Gmail
After clicking "Import Contacts", click "Choose Google Account". You will be able to log into your Gmail account and it will pull up all of your contacts. Choose which contacts you would like to import by clicking the check mark next to each name and click "Import selected contacts".