At the top of your "Event Overview" page, to the right of your event title you will see a few different buttons.

The second button is labeled "Activites/Add-On's". Clicking this button will enable you to add another activity such as another show, transportation, lodging, etc.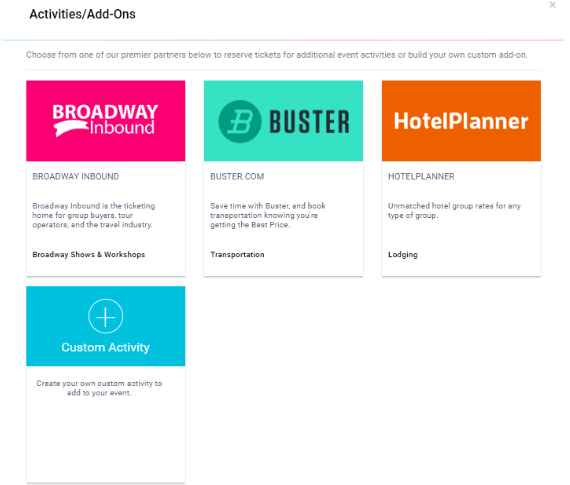 When you click "Activities/Add-On's" you will see a pop up window to allow you to link to Broadway Inbound to purchase the tickets for the activity or workshop you would like to add. You can also link to Buster.com to book transportation options or even HotelPlanner.com to book a hotel with group rates. As well, you can create an entirely custom activity to add to your event.
*By clicking the links for BroadwayInbound, Buster, or Hotel Planner you will be taken to the respective pages to continue your booking.
When creating a custom activity, choosing this option will enable you to add another activity to your event and will follow the same steps as when you created your original activity with one slight difference.
You can review this process again by clicking here.

At the top of the box, you will see 5 options to choose from. Activity, Lodging, Restaurant, Transportation, and Other. Each tab would be looking for detailed information about that specific activity.

For example, if you choose Transportation you will be required to enter in a depart and return date and time, the pickup and drop off locations and how many available seats there would be available. The options would change for each tab.  
Addition options to your activities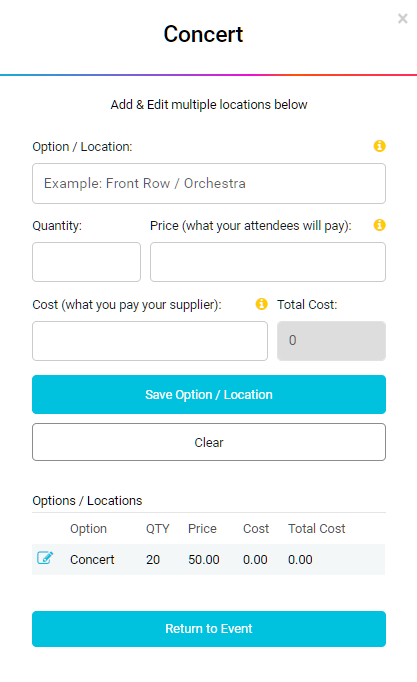 Here at GroupTools, we give you the opportunity to give your guests different options for each activity. 
Once you have added the activity you would like to add the options to, you will want to navigate back to your Event Details page. Once there, scroll down and locate the add-on to which you would like to add multiple options and select the button labeled "Add & Edit options/Locations." Doing so will bring up a box with two areas. The top section is to add a new option or location and the bottom section includes a list of all the current options or locations for this add on with buttons that will allow you to edit or remove them.
To add a new option or location, you would fill out the details such as the name of the option, the quantity, price you are charging your guests, and the cost to your supplier then select the "Save Option/Location" button to complete the addition. once you have added all your options, select the "Return to Event" button to go back to your event's main page.