Our "Forms" accordion is a great way to help you keep track of any type of documents you would need to receive back from your guests in order for them to attend. It allows you to track the guest you would need the form from, type of form, description, date you provided the form, and the date you received it back.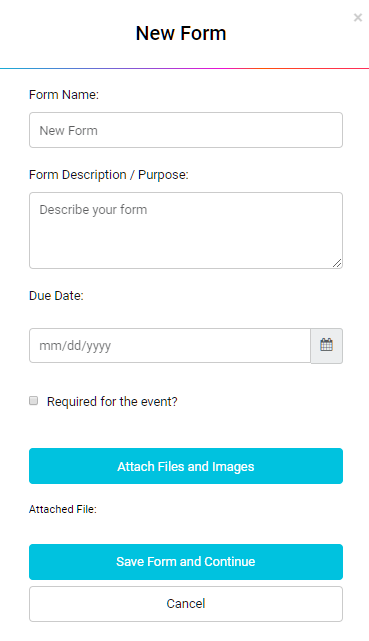 Once you open the "Forms" accordion you will be able to name the form, describe the purpose of the form, enter the date you will need the form receive by, choose if the form is required to attend the event, and lastly you can upload an image of your form in PDF format.

You can upload a form by saving the form to your device as a .PDF and click "Attach Files and Images. This will pull up the uploader. In the upper right-hand corner you'll see a button that says "Upload New". When you click on that, click "Browse" and you will be able to search the files on your device. Once you have located it, scroll down and click "Upload File".

You can also locate the forms upload screen by navigating to your "Menu" and clicking on "Media Library". You can upload your images from this screen and when you create your form within your event, you can choose the form you would like to attach.

After you have uploaded your form, you will be able to send to any guests who have accepted your invitation by clicking their name. Here you can also enter the date you delivered the form to them as well as received. You can do this by clicking in the date field and entering one at a time, or you can click the checkmark of all of the guests you have provided it to and set the delivered date or received date for all chosen guests at once.

Once you have entered all of the information you would like, you can click "Save Changes" at the bottom of the window. This will save the details for that specific form. You can always go back at any time to add or remove guests names from that form by clicking "View" in the forms accordion.